Fire Pit Insert | Gas Burner for Fire Table | Black with Profile Edge – 39×84 cm
A built-in gas burner for creating a fire table: a 'table with fire'!
You can insert this big rectangular gas burner in your own table. Installation is easy for any DIY enthusiast.
With this fire pit insert kit, you make your own unique fire pit table!
Dutch design, manufacturing quality and safety standards are your best guarantee for many years of enjoyment.
This Fire Pit Insert Gas Burner for outdoors is, like all our fire pit table inserts, completely assembled.
This beautiful gas burner can be inserted in the excision of your own table. The 3 x 5 cm black powder coated profile edge of the burner rests on the tabletop and extends 5 cm above the table.
Let the gas burner sink in the excision of your table, connect the gas supply and the fire pit can burn immediately!
Experience the pleasant warmth and atmosphere, but also the convenience of a gas fireplace.
With the electronic ignition, you'll start your fire pit with the push of a button. The flames are infinitely adjustable from low to high. The burner bed gives a lot of warmth and beautiful big flames, this makes it look like a wood fire.
Length of the gas hose: You can specify the length of the gas hose in the drop down menu. 1 meter is included as standard.
Choice of gas type: propane / butane or natural gas.
All table fireplaces are CE certified under number 0063BQ3153.
The dimensions of the fire pit inserts with profile edge:
39 cm x 39 cm – excision in tabletop 31 × 31 cm
49 cm x 49 cm – excision in tabletop 41 × 41 cm
39 cm x 54 cm – excision in tabletop 31 × 46 cm
39 cm x 69 cm – excision in tabletop 31 × 61 cm
39 cm x 84 cm – excision in tabletop 31 × 76 cm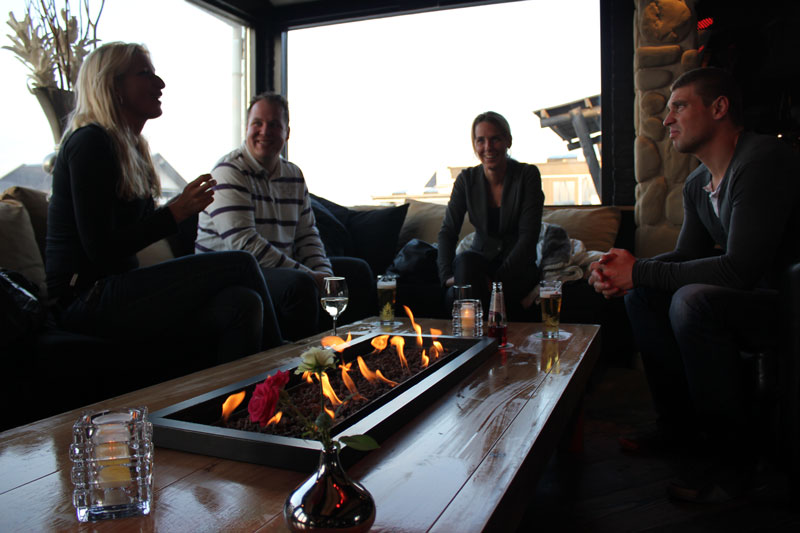 This Fire Pit Insert of supreme quality comes as a complete installation kit:
.  Burner / Fire tray with heat resistant powder coating
.  Frame, black, 5 cm high above the tabletop
.  Lid that covers the burner completely
.  Protecting cover over wiring
.  Gas control block with official GASTEC KIWA CE certificate
.  Electronic pilot light ignition
.  Control knob to adjust flame heights infinitely
.  Gas hose with natural gas coupling
.  Anthracite coloured lava rocks
This product line of Fire Pit Inserts is designed and produced in the Netherlands.
Safety
The gas burners are designed for installation in outdoor furniture. They are equipped with a safety system which is enclosed and protected by a stainless-steel hood, together with the wiring and control block. Our fire pits comply with the most stringent Dutch safety regulations and are KIWA and CE approved for entire Europe. The fire pits are equipped with electronic piezo ignition and thermoelectric protection which protects against overheating. This protection blocks the gas supply. A pilot light provides thermal protection. When the pilot light goes out, it always shuts the gas supply. The gas pressure remains constant with a working pressure of 30 mbar via the gas pressure regulator. As a result, the flames can be infinitely adjusted via the control knob on the control block.
In our burners, a special silencer has been installed to prevent the annoying or disturbing noise of the flowing gas. So, you can enjoy your fireplace and the cozy atmosphere in peace. The fireplaces are delivered with a test certificate, the capacity in kilowatts and the injector size in mm.