Professional advice & great service
Everything CE Certified
Fast delivery
Thats why we're rated with 10/10
Delivery throughout Europe
Turn your Fire Table into a Barbecue Table!
The barbecue season has started again! With our built-in burners you can turn your own garden table into a Fire Table.
With the Table Barbecue, you can eat together at the Fire table.
After dinner, you can remove the barbecue and enjoy sitting around the fire.
Now on sale at Terras & Co: Table fireplace + Barbecue for € 389!
Our excellent customer service is ready to answer all your questions.
Check our Sping Offer!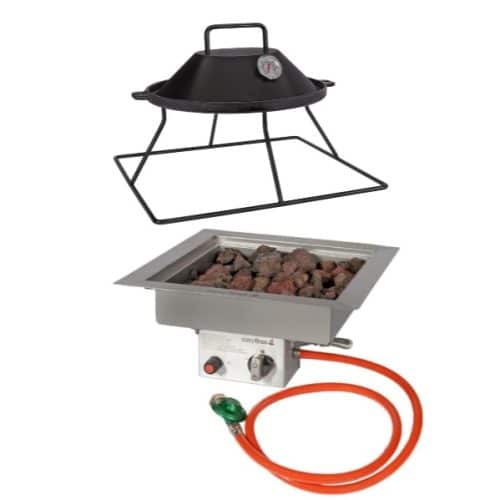 Many new products for indoors and outdoors!
Terras & Co has the largest product range to bring warmth and atmosphere to your home, garden or patio.
Our extensive product knowledge, excellent service and professional advice result in the highest score of customer reviews in the Dutch web shop quality mark and Google.
In addition to patio heaters that work on a gas bottle, we have expanded our range with electric decorative fireplaces with a flame effect and fire tables and table-top-fires on bioethanol.
For indoor and outdoor use!

With these products, we offer more sustainable alternatives.

Feel free to visit our showroom or contact us for information or advice!
See our products
Frequently Asked Questions
Water Tables

What is a Water Table?
A Water Table is a metal container with a pump, fountain and lighting.
Depending on the size of the tank, one to four fountains are placed in the Water Table.

How do you install a Water Table?
The Water Table must be placed on a firm, level surface.
You fill the container with water and connect the pump and the lighting to a power connection suitable for outdoor use.

What makes a Water Table special, why not just a pond?
Because the water level in a Water Table is higher than in a pond, you add a unique element and a true eye-catcher to your garden or terrace.
The fountain is beautifully accentuated in the dark by the LED. The moving water is relaxing to watch and hear.
Another advantage is that you can place the water table on your terrace or as an eye-catcher in your front garden. You can also easily move the water table when you pump out the water. This way, you can vary with your garden design.

What sizes and models are available?
The choice is huge. There are square and round Water Tables, high and lower, and there are also rectangular Water Tables with a length of up to 4 meters.
Customization is also possible. Water Tables can form a unique element in your garden design.

Which materials are available?
Water Tables are available in aluminum or Corten steel.
Aluminum has the advantage that it is lighter and these tables are available in various colours. Aluminum is powder coated and has a very long lifetime.
Corten steel requires no maintenance and does not need to be painted or coated. The steel begins to rust under the influence of moisture and oxygen. This should be avoided with regular steel, but with Corten steel the rust-coloured and very dense oxide skin shields the deeper lying material from oxygen, which slows down oxidation considerably.

Is maintenance required?
Dead plats and leaves should be removed regularly, as these acidify the water, which is detrimental to aquatic life.
In case of light frost, the pump must be stopped and the water level lowered to 10 cm below the edge.
In case of severe frost, you can remove the pump and store it in a frost-free place.

Besides you, who else is happy with the Water Table?
Water Tables are usually quickly discovered as a drinking place by birds and other animals, promoting biodiversity in your garden.

Fire Tables, Table Fires & Fire Pit Inserts on Bio-ethanol

What is an ethanol burner?
An ethanol burner works on bio-ethanol and provides warmth and atmosphere. Bio-ethanol can be filled in the container under the burner, it is burned in a controlled manner, creating a clean and clear flame.

Is an ethanol burner safe?
Ethanol burners are safe as long as they are used according to instructions. The burner may only be refilled when it is not on and has cooled down. It is also important to always supervise any open flame.

Are ethanol burners environmentally friendly?
Ethanol burners are an environmentally friendly alternative as they do not produce smoke or hazardous emissions. Bio-ethanol is a renewable fuel produced from plant materials such as sugar cane or corn.

Can ethanol burners be used indoors?
Yes, ethanol burners are safe to use indoors. It is important to follow the manufacturer's safety guidelines to avoid dangerous situations.

Can ethanol burners be used outdoors?
Yes, ethanol burners can also be used outdoors. They are a great way to create a cozy atmosphere on a patio, terrace or balcony.

How long does an ethanol burner burn?
The burning time depends on the power of the burner and the size of the fuel container in the burner. On average, ethanol burners work between 3 and 5 hours.

What types of ethanol burners are available and how much do they cost?
The price of ethanol burners varies depending on the size, design and quality. Small ethanol table fires can be placed on the table and are for sale at Terras & Co from €79. There are also ethanol built-in burners for installation in an existing table in our range from € 234. Finally, complete fire tables are available in various sizes and materials, prices start at € 949.

What are the benefits of using an ethanol burner?
– Quick and easy installation
– The ease of use
– The beautiful orange-yellow flames
– Ethanol burners can be used both indoors and outdoors
– Ethanol burns cleanly, without smoke and virtually odorless
– Bio-ethanol is an environmentally friendly alternative to fossil fuels.

Fire Tables & Fire Pit Inserts on Gas

What is the difference between natural gas and propane?
Natural gas requires a connection from home or building; propane is available in bottles that fit in most fire tables; installation is quick and very simple.

Can a table fireplace use propane and natural gas?
A table fireplace is suitable for propane or natural gas. The combustion value and the pressure differ, therefore the burners are not interchangeable. The gas hose and the connection are also different. A pressure regulator is required when connecting to a gas bottle or tank (propane or butane), while natural gas requires a connection to the natural gas network.

Can a propane burner be converted to a natural gas burner?
This is possible with most burners, but costs may be charged: the gas nozzle, couplings and the gas hose are replaced.

What does a table fireplace on natural gas and on propane gas consume?
A table fireplace of 40 x 40 cm uses 0.8 M3 natural gas per hour on the highest setting and burns for 24-26 hours on a propane bottle of 10 kg.

Why does a propane bottle sometimes freeze?
We see in exceptional cases that the gas bottle freezes. The flame then goes out. It is because the evaporation of liquefied gas extracts heat from the bottle and the gas inside. If the gas bottle is small and the flames are high, the temperature will drop too much and freezing will eventually occur. There is nothing wrong with your gas fireplace. The height of the frozen moist on the bottle shows how much gas is left in the bottle.
If your gas bottle is frozen, you should wait for 15 – 25 minutes before turning the fire on again. A gas bottle smaller than 5 kg can freeze. This is unlikely with a gas bottle of 10 KG.

Can the fireplace and table be left outside in winter?
The table fireplace can remain outside in winter and can also be used normally. Always place the steel cover on the burner after use.
You can store a wooden garden table in an unheated shed or under a shelter during winter. Tables made of softer woods can be protected from wet surfaces by placing them on blocks or stones.
An outdoor protective cover is better, but not necessary.

Does the table fire pit get very hot?
The body of the fire pit does get warm, but not very hot.
If the gap between the fireplace and the table is about 1 cm all around, the tabletop will not get too hot.

Can the fire table be placed under a canopy or parasol?
Because there are no sparks, the fireplace can simply be placed under a sturdy parasol.
Never fold or unfold a parasol when the fireplace is burning. Keep a distance of at least 1 meter.

Can a gas table fireplace also be used indoors?
The table fireplace is designed for outdoor use or places where there is a constant supply and exhaust of outside air, such as a terrace, balcony, ventilated conservatory or gazebo. The table fireplace can be used indoors if there is a chimney, installation in a fireplace is very good. Bio-ethanol burners can be used indoors without a chimney or exhaust.

How should the table fireplace be maintained?
When used correctly, the burner requires little maintenance. It is good to carefully remove the stones once a year and to blow through the fireplace with a compressor or to remove all dust and grit with a vacuum cleaner. The gas hose and the rubber ring of the pressure regulator must be checked every year. The gas hose and the rubber ring must be replaced once every 5 years.
The black powder-coated fireplace and lid can be cleaned and rubbed with car wax.
A stainless steel fireplace can be cleaned with a stainless steel cleaner.
Only brush, blow or vacuum the perforated burner. Do not use any water or cleaning agents.

What is a KIWA and a CE certificate?
KIWA tests and inspects a gas product strictly for quality, safety, clean gas combustion, exhaust gases, soot formation, toxins, leakage, gas blocking in the event of overheating and monitors professional installation. All our fire pits / burners / table fires comply with these Dutch safety regulations and are therefore KIWA certified. The CE certificate means that the product complies with European regulations. Our products comply with these legal safety regulations and are therefore KIWA / CE certified. As an authorized supplier of gas products, we warn what can go wrong when purchasing sub-standard, low quality, non-approved products.

What are the hazards of an unsafe gas fire?

Fire due to overheating
Explosion due to leaking gas hose or assembly
Soot formation due to incomplete combustion

A gas fire must be fitted with a thermoelectric safety device that protects against overheating. When the pilot flame goes out, the gas supply is shut off and the fire goes out immediately.

The gas control block regulates the maximum permitted gas supply so that a clean gas combustion is created with minimal waste. One knob serves to ignite the pilot flame and the other knob regulates an even, stepless and safe flame height. Via the gas pressure regulator, the gas pressure remains constant at 30 mbar despite the various flame heights.

With the Quattro-fire Table fireplaces, a special silencer has been installed at the gas supply to prevent annoying or disturbing noise from the flowing gas.

What if my gas fire ignites with difficulty?
Gas fireplaces are maintenance-friendly. Switch on the fireplace with the push of a button and you will immediately have an attractive and warm fire. With small annual maintenance, you can in most cases enjoy a gas fire or gas heater for a very long time. Keeping the gas fire free of dust prevents problems and benefits the life of the fire. However, sometimes problems can occur. If the gas fire ignites with difficulty, this can be due to various causes, such as:

the battery of the igniter is empty or almost empty
the thermal safety feature blocks the gas supply due to contamination or is defective
there is not enough gas in the gas bottle
the bottle is not standing upright
a type of gas is being used for which the burner is not intended
dirt, dust or grit disturbs the operation of the pilot light and the thermal protection.

What can I do about a strange smell when burning the gas fireplace?
A new gas fire can give off a strange smell the first time it burns. This is nothing to worry about and will disappear. These are only minuscule leftovers from the manufacturing process. The gas fires from Terras & Co are of high quality and safety. All fireplaces are equipped with a system that automatically shuts off the gas supply when the pilot flame goes out. Do you, in a very exceptional case, still smell gas? Then close the gas bottle. Does the problem persist? Then please contact us.

Instruction to solve malfunctions of burners that go out after releasing the gas button
Cleaning the burner, especially the part near the igniter and thermocouple: Dirt and/or soot particles can disrupt the functioning of the thermocouple. This also occurs with new burners.
Remove the lava stones.
Remove the cover from the igniter and thermocouple.
You can blow the burner clean with a compressor / compressed air, this works best.
If you do not have a compressor, you can gently vacuum clean the burner or clean with a brush and clean the holes in the burner with a toothpick.
Now test the operation of the fireplace. Does the fireplace still not burn after releasing the gas button? Please, contact us.

How do I connect a gas hose and when should I replace it?
A standard gas hose must be replaced once every 5 years. If damage occurs sooner, for example showing small cracks, the gas hose must be replaced. The gas hose must bear the GASTEC quality mark, followed by a year: this is the production date. This date plus 5 years is the date on which it must be replaced at the latest.
A Dutch approved gas hose (propane/butane) has the imprint: NEN5654.

Always use a hose that is suitable for the type of gas you are using and choose a hose that is marked with the year and the name of the manufacturer.
We recommend replacing a gas hose every 5 years. This is because sunlight, heat and the flowing gas age the rubber.
Gas hoses must be professionally checked periodically for wear, leakage and damage. If there is discoloration, deformation, damage or signs of porosity, replace the hose immediately. Do not take any risks, if in doubt replace the hose!
Because you have to take some pressure loss into account, keep the gas hose length as short as possible. Never allow the gas hose to become kinked or twisted.
Keep the gas hose away from heat sources and UV light (solar radiation).
Never use an open flame to find a leak. You do this with soapy water.

Always open and close the gas tap by hand. Do not use any tools or force to unscrew the gas tap. If you cannot open the gas tap yourself, return the gas bottle to your supplier.

Loosen and tighten the gas hose with pressed couplings (swivels) with a wrench or pliers, without using force. So, hand tight is not enough.

If a gas hose is fitted with hose clamps, check these extra carefully, because tightening the hose clamp damages the gas hose more quickly and can tear at those points.

How does a gas pressure regulator work?
The pressure in a gas bottle varies with temperature. So, the pressure is not always the same. To ensure that the working pressure is always constant, we use a gas pressure regulator. This lowers the pressure: it is a pressure reducing valve. When connecting the gas pressure regulator, make sure that it indicates the same gas pressure as the equipment to be connected (30 mbar).
The pressure regulator consists of two 'chambers':

One (through which the gas flows) is isolated from the outside air and contains the pressure reducing valve.
The other is connected to the outside air through the ventilation opening and contains the regulator (this is a spring with a certain tension force).

These two 'chambers' are separated by a flexible elastomer membrane.

The propane or butane gas is under high pressure in the bottle or tank and enters the pressure regulator. The pressure inside the pressure regulator (chamber) rises. As a result, the inner diaphragm and the valve attached to it are pushed away, limiting the inflow of the gas. When the gas exits the pressure regulator, the internal pressure decreases again and the diaphragm is pushed back again by the spring. This causes the valve to open and more gas flows into the pressure regulator. The pressure is therefore mainly dependent on the pressure of the spring, which is set to a certain flow rate.

Safe operation of a gas table fire
With a beautiful fire table from Easyfires or another brand, you bring warmth and atmosphere into your garden or on your terrace. These stylish fire tables are equipped with a built-in gas fireplace. The big advantage of this is that you will not be bothered by smoke or flying sparks! In addition, the height of the flame is easy to adjust. And if you want to extinguish the fire, that is done with the turn of a button.
A gas fire is therefore very comfortable and user-friendy. But there are some points of attention.

Butane or propane?
Butane is mainly used in France, England and Ireland. In the Netherlands, Belgium and Germany, most gas cylinders are filled with propane. You will not notice the difference when using the fire table. Propane and butane are both LPG (liquefied petroleum gas). The only noticeable difference between butane and propane is that propane can be used at low temperatures and butane cannot. Butane remains liquid at temperatures around freezing point and propane can be used up to a temperature of -42 degrees Celsius.

And autogas? That's cheaper and it's just butane and propane, right?
Autogas is called LPG in the Netherlands, that's what it is, but besides butane and propane, it also contains additives, which exactly are unknown. Autogas is not intended for fire tables, but for combustion engines: a gas burner is different from an engine and we do not know what else, apart from CO2 and water, ends up in the combustion gases. LPG is cheaper, because the professional filling of bottles in a safe environment, checking the safety of the bottles and replacing older bottles do not have to be paid for. Filling bottles yourself at a petrol station is a criminal offense for safety reasons.
Terras & Co advises against using autogas in a fire table, stove or built-in burner. The warranty also expires.

Which gas bottle is suitable for your fire table?
In addition to the normal steel gas bottles, there are also lightweight plastic and aluminum gas bottles. There are several models and brands of lightweight bottles available, which fit better in most fire tables because they are more compact. The bottles are almost 2x lighter than the normal steel bottles. They are easier to carry due to the lower weight and the spacious handles. The collar provides protection for the gas tap. The lightweight bottles also do not leave rust spots, this can be the case with the steel gas bottles.

How do I connect a gas bottle to my fireplace?
This is very simple. With the right gas bottle and the right connectors, you can safely use your fire table. First check whether the black rubber sealing ring is present in the nut of the pressure regulator. Then fasten the connecting nut of the pressure regulator (left-hand thread) firmly to the gas bottle. Use a wrench. Hand-tight is not sufficient, but do not tighten the nut too much, as the rubber ring may eventually lose its flexibility. Hold the pressure regulator with the top up when tightening the nut. After connecting, you can open the gas supply from the bottle by turning the handwheel counterclockwise. LPG is compressed into liquid in bottles. It is colourless, non-toxic and environmentally friendly. Propane or butane gas is heavier than air and in the event of a leak it will spread over the ground. Even at freezing temperatures, propane gas can still be used.

Connect a gas bottle in 8 steps

Check the gas pressure regulator and the rubber ring in the regulator connection for damage.
Connect the gas pressure regulator to the gas bottle.
Tighten the pressure regulator firmly with a wrench or pipe wrench.
Place the gas bottle on a flat surface.
Open the gas tap by hand, do not use any tools.
Use a brush with some soapy water to check the connections.
Do bubbles form? Then the gas pressure regulator is not connected properly. In that case, repeat the steps above.
No bubbles? Now the gas fireplace can be turned on.

Which size and type of gas bottle do I choose?
This differs per model.
If you have a fire table or fire column, you will need a gas bottle of 5 or 10 kg. Gas cylinders come in different sizes and models. Read the advantages per type of gas bottle below and choose a gas bottle based on this.
5 kg bottle: Suitable for the lounge – fire tables. Most fire tables in our range are designed to store  the gas bottle inside the table.
10 kg bottle: suitable for fire columns, patio fireplaces, dining fire tables and bar tables. These are higher and therefore have enough space inside to be able to place a large gas bottle upright.

How do I use my gas cylinder safely?
Propane gas is a fuel. Always make sure that when connecting or changing a gas bottle to the fireplace, there is no smoking and no open fire in the vicinity. Always place your gas bottles in a room with proper ventilation. Additional gas cylinders must be stored outdoors and they must not be stored or used in places where the temperature exceeds the normal ambient temperature.
The gas cylinder must not be used in places where the temperature can exceed 40 degrees Celsius.
Place your gas bottle upright and where possible in the shade or in a cool place.
In the event of a fire, close the gas supply as quickly as possible and remove the gas bottle. If this is not possible, cool the gas bottle with water from a safe distance. Do not take any risks and call the emergency number.

Only go to a recognized point of sale / an authorized dealer for a safe and well-filled gas bottle. Filled gas cylinders must always be sealed.

Bottled gas is one of the safest fuels. More accidents occur with unsafe use of:
– liquid fuels when starting a fire,
– fire due to sparks from wood fire and excessive heat from wood fire (heat radiation or flue gases) in an unsuitable place.
Customer Service
Welcome! We are Terras & Co
The Dutch company Terras & Co BV is the designated specialist for warmth and atmosphere outdoors.
Since 2007,  www.terrasenco.nl has been the internet store that specializes in fire pit tables and outdoor fireplaces. With our fair prices, a huge product range, fast delivery all over Europe and, of course, professional services. We believe that we can provide that little bit extra comfort, warmth and pleasure, both indoors and outdoors. Not only with excellent products, but also with our exceptionally friendly advice and service: we just want to make you happy with our products! Due to an open and professional culture within our company.
Besides that, our key to success has been our unique product range. A lot of it is Dutch Design, such as the Fire Pit Tables, Patio Heaters, Fire Pit Inserts, Barbecues and many others. Products that set you free from the rush, enabling you to spend quality time with family and friends in an atmosphere of warmth, timelessness and relaxation.
Our mission is: to contribute to a great outdoor life! Just have a look in our web shop, we are sure that we can fulfill your wishes.
Warm regards,
Jarno den Hartog and Vincent van Mulligen
Team Terras & Co
Reviews