For safety reasons, due to material dehydration, a standard gas hose must be replaced every 5 years. Does damage occur sooner, i.e. visible hairline cracks, the gas hose must be replaced sooner. The GASTEC quality mark must be on the gas hose and behind it is a year: this is the production date. This date plus 5 years is the deadline for replacement .
A Dutch approved gas hose (propane / butane) has an imprint with the Dutch Standardization: NEN5654.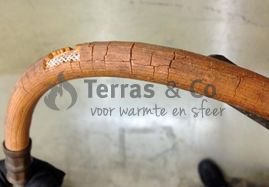 Always use a hose that is suitable for the type of gas you use and choose a hose with a year and the manufacturer's name.
We recommend replacing a gas hose every 5 years. This is because the gas and its additives can affect the rubber.
Gas hoses must be periodically checked for wear, leaks and damage. In the event of discolouration, distortion, damage or signs of porosity, you must immediately replace the hose. Do not take any risks, when in doubt, replace the hose!
Because you have to take into account pressure loss, keep the hose as short as possible. But prevent the hose from getting stressed, kinked or twisted.
Keep the hose away from heat sources.
Never use an open flame to detect a leak.
If a gas hose is fitted with hose clamps, check extra carefully, because tightening the hose clamp will damage the gas hose faster and may tear at those points.